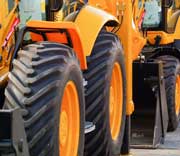 Sri Lanka-based tyre manufacturer Global Rubber Industries (GRI) has introduced a heavy-duty contender for heavy loader applications: the Gripex LT122. The industrial tyre is designed with a robust nylon casing that provides impact/shock resistance for extensive tyre life. On the other hand, the tread compound is able to resist wear and cuts while the improved tread design provides better traction. In addition, the inter lug design of the Gripex LT122 is resistant to damage and casing deterioration, resulting in less downtime, according to GRI.
The Gripex LT122 is currently available in size 14.9-24, with more sizes to be released soon.
"Earth movers, loaders and excavators rely on their tyres to provide the stability needed to perform. At GRI, we aim to effectively deliver the high-performance construction tyres that these machines depend on to move material," said GRICEO Mahesha Ranasoma.
Other tyres in the line that service loader applications are the Gripex LT100 in size 12.5/80-18 and Gripex LT300 in size 9.00-16.