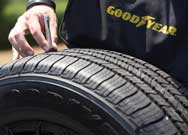 The Goodyear Tire & Rubber Company (Goodyear) has recently equipped Michigan-based mobility startup, Priva, with intelligent tyres to reduce vehicle downtime and allow for more efficient operations. The sensors in the tyre's will enable Goodyear to gather data and liaise with Priva for future tyre maintenance needs for its mobile offices.
According to Goodyear's Director of New Ventures, Erin Spring, said the company is pleased to work with innovative partners like Priva with proactive digital tyre information that helps fleets operate their vehicles safely and efficiently.
The initiative is an example of Goodyear's ongoing efforts to deliver complete solutions for the future of mobility.
Ryan Gee, Priva's Founder and CEO, said: "Predictive maintenance technologies are essential for the safety and reliability of future mobility systems. Goodyear's intelligent tyre system is an excellent example of how technology will make mobility safer for everyone, and our team at Priva is excited to collaborate with Goodyear on this endeavor."