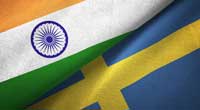 Swedish company Enviro will be joining the India-Sweden Innovative Accelerator (ISIA) to bring new and improved technology to the Indian tyre recycling industry. ISIA, a collaboration project between the Swedish Energy Agency, Business Sweden and the Confederation of Indian Industries, is directed at selected Swedish companies as part of a long-term investment to establish renewable energy solutions in India.
Company CEO Thomas Sörensson, said Enviro's participation aims to increase the exchange of technical developments and resources in renewable energy across international borders and will establish its technology on the Indian market when the time is right.
India is in great need of sustainable solutions for end-of-life tyres and ISIA has facilitated numerous collaboration projects for Swedish innovation companies which have, just like Enviro, scalable innovations that are appropriate for Indian conditions and will enable them to expand into an international market.
Enviro and other participating companies will initially be making three trips to India, to meet Indian companies, interested parties and potential collaborative partners. The first delegation will be in India from 6-14 November 2019 amidst ISIA-related dialogues and tests already under way with several of the country's largest tyre manufacturers.