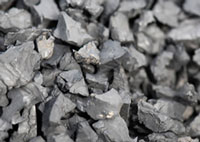 The small Egyptian village of Mit Al Harun, north of capital Cairo, has gained a reputation as the country's top rubber recycling hub – its residents have for decades made a living by recycling old tyres into new rubber products and alternative fuels, in a process that significantly cuts out waste produced. The village receives tonnes of used tyres from across the country, delivered in huge trucks, and routinely turns them into heavy-duty baskets and landscaping materials, among others
According to 43-year-old Mostafa Azab, whose workshop primarily fashions baskets out of tyres from trucks, tractors and industrial vehicles, almost 10 used tyres can be processed each day,producing between 80-120 heavy-duty baskets – these are often used by farmers, gardeners and labourers.
"We cut the tyre in half, then split its inner layers using a winch, before shaping them into baskets and hammering nails around the edges to make them hold," said Azab.
Azab's brother, Haitham, said the "exhausting"job required physical strength to carry around the heavy tyres – "If we had the option of a more stable occupation, we would have quit this one. But this is our only source of income."
Since the 2011uprising that unseated longtime dictator Hosni Mubarak and triggered political and economic unrest, this line of work has grown unstable; however, recycling damaged tyres has long been practiced by Mit Al Harun's locals. Of the inherited occupation, recycling workshop owner Abdelwahab Mohamed laments, "there are days with plenty of work and others with little to none."
Mohamed earlier explained that used tyre components that his workers separated would be collected by steel and iron factories while other parts were recycled into mulch for playgrounds. He said that tyre rubber would often be used by cement factories as an alternative energy source to low-grade mazut fuel oil.