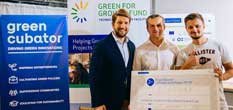 Ukrainian green tyre startup EcoTyre has presented its "plant on wheels" recycling strategy at the innovative Climate Launch pad competition, held recently in Amsterdam, the Netherlands. Their project enables the production of valuable raw materials, such as crumb rubber, steel wire, textiles, and gas, from end-of-life tyres; the EcoTyre line can be carried on trucks and transported as needed, anywhere in the world.
The waste receiving and processing plants separate metal, textile and rubber by electromagnets usually only at the end of the tyre recycling process. These result in the manufacture of rubber with metal inclusions, which are unsuitable for re-production of tyres or rubber products. In contrast, the mobile EcoTyre line is able to separate the metal carcass of the tyre from the rubber in the landfill into metal, rubber and rubber-textile, in a zero-waste process.
For the purpose of effective tyre recycling, Vladimir Emelyanov, Head of the Research and Development Center (R&D Center) of EcoTyre, explains that the company leveraged the principle of the microwave operation – the heating of the metal in the tyres using electromagnetic waves – in order to obtain material from which a new tyre can be easily made.
"The global trends in this industry are aimed at creating closed-cycled production (a circular economy), therefore, we would be glad to cooperate with a large international tyre manufacturer," said Nazar Khalavka, Co-founder and Chief Business Development Officer, EcoTyre; he added that memorandums of intent have been signed to purchase EcoTyre recycling lines, worth over a million euros.
Meanwhile, EcoTyre representatives are working on possible cooperation with mobile waste recycling equipment manufacturer MTB. The French company has amassed nearly four decades of successful experience in recycling, manufacturing and engineering, in regions including North America, the Middle East, Japan, and Southeast Asia.