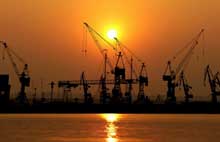 The coronavirus outbreak has severely impacted trade between Indonesia and China: the price of Indonesian rubber, a key export commodity, has dropped sharply in the last few weeks – from IDR 9,200/kilogramme to IDR 7,200/kilogramme.
Prabumulih Agriculture Agency Head Syamsurizal said rubber exports to China were greatly reduced, but declined to predict how long the situation might last. He hoped the outbreak would soon end, so that the rubber price could get back to "normal", with any price below IDR 10,000/kilogramme considered abnormal.
As China was a dominant buyer of rubber globally, Head of the plantation product processing and marketing division at the South Sumatra Agriculture Agency, Rudi Arpian, noted that "nearly 40% of Indonesia's rubber output goes to China" and that the rubber price drop would impact plantation workers in multiple ways, because lower rubber prices would result in lower labour fees.
An example is Qolbi, one of many farmers in Prabumulih, South Sumatra, who lamented that the price drop had started to hinder his ability to meet daily needs. He unfortunately has no alternative source of income to rely on.
The coronavirus, which has a rising number of deaths despite claims of improving treatment, has begun to take a toll not only on Indonesia's tourist industry but also on commodity exports.
Indonesian Employers Association Chaiman Hariyadi Sukamdani said that palm oil was among the commodities affected, as the virus outbreak had caused a delay in shipments of the commodity to China, again one of the major buyers of Indonesia's palm oil.
"From us to them, it is mostly commodities, such as crude palm oil and minerals. These exports have been affected," said Hariyadi. "Meanwhile, our imports from China, most of which are manufactured products and household goods, have all slowed."
He added that businesses were looking at other markets to replace China, but that was challenging, as the economic superpower offered competitive prices.