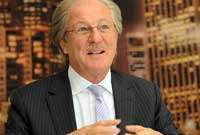 Continental AG, a leading tyre and automotive parts manufacturer, has confirmed that it will be shutting down its tyre production plant in Aachen, westernmost Germany. Continental believes the Aachen plant has been underutilised as of late – its closure will nevertheless affect at least 1,800 of the total 2,000 jobs in various production, development and administration sections of the plant.
Continental is planning a massive restructuring of their European operations to better suit the "transformation of the automotive industry and the challenges presented by the economic and market environment."
"We are very aware that the process the automotive industry and we are going through now is indeed painful, and it will continue in the coming years. At the same time, it is opening up new and profitable growth opportunities in a world of mobility that is undergoing fundamental change," said Professor Dr. Wolfgang Reitzle, Chairman of the Continental Supervisory Board.
"Continental is now well positioned to do this. With the resolutions approved today by the Supervisory Board, the foundation for the necessary transformation of Continental has been laid. We have thus substantially enhanced its competitiveness and increased its future viability.
"I am firmly convinced that the company will emerge from this unprecedented transformation process all the stronger."