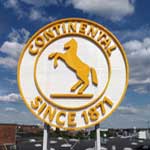 Continental Tire (Continental) has launched a series of three "intelligent" construction tyres for on-/off- and mixed-road applications. Each line is designed to offer high mileage, durability, traction and retreadability to heavy-duty vehicles and comes with tyre sensors for digital monitoring. The new tyres – HSC 3 steer/all-position tyre; HDC 3 drive tyre; and HAC 3 all-position tyre – each have a six-year, three-retread warranty.
According to Continental, the sensors, mounted on the inner liner of the tyre, ensure their ability to perform in severe environments.The sensors further ensure that the tyres are operating under proper air pressure and internal casing temperature.Several Continental systems can read the built-in sensors, including ContiConnect, ContiPressureCheck and ContiLogger Live.
Digital tyre monitoring solutions are a necessity to maintain premium tyre casings and reduce overall driving costs – Continental's digital solutions, therefore, "help fleets reduce downtime, improve safety and fuel efficiency, and minimise labor/maintenance costs associated with tyre inspections".
Continental showed off the tyres' traction, curbing-resistance and stone-retention capabilities, among other attributes, in Uvalde, near San Antonio.
The HSC 3 is a heavy truck, steer/all-position construction tyre. A successor to the HSC1, it has an "aggressive" on-/off- road tread design with enhanced cap/base compounds for improved mileage and traction. The tyreis built upon Conti's 3G casing and features a tread design and groove geometry that reduces stone retention for enhanced retreadability; its maximum sidewall protection results in improved resistance against curbing, cuts and abrasions.
The HSC 3, with a 24/32nds-inch tread depth, comes in three sizes – 11R22.5 LRH, 11R24.5 LRH, and 315/80R22.5 LRL – and is available in a matching retread.
The HDC 3 is a heavy truck, drive, construction tyre that features a wide, open-shoulder tread design and has enhanced cap/base compounds for improved mileage and lateral traction. The 30/32nds-inch tread depth HDC 3, similarly built on the Conti 3G casing with reduced stone retention and improved resistance, is available in sizes 11R22.5 LRH and 11R24.5 LRH.
Its matching retread, ContiTread HDC 3, comes in 210-250mm widths.
As for the HAC 3, which is an all-position construction tyre, it has an on-/off-road tread design as well as enhanced cap/base compounds.The four-belt tread package resists impacts, bruises and penetrations, and provides y. It, too, features increased casing durability, enhanced retreadability and resists curbing, cuts and abrasions.
The HAC 3 is available in 385/65R22.5 LRL at 22/32nds-inch tread depth, and 425/65R22.5 LRL at 24/32nds-inch tread depth.