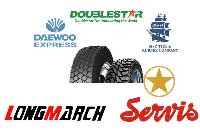 Chinese companies Long March and DoubleStar Tire have signed joint venture deals with Pakistani businesses, as China has begun to consider Pakistan as an investment destination. According to the Prime Minister's Adviser on Commerce, Abdul Razak Dawood, Long March has recently partnered with footwear maker Servis, and DoubleStar Tire has partnered with Daewoo Pakistan Express Service and MSD Tire. Meanwhile more investments poured in from mega Chinese companies, such as globally-acclaimed garment-and-toys-making giant Li & Fung.
Following his recent visit to China, Dawood said that Chinese companies would send their products from Pakistan to Europe and further to the US –echoing China's penetrating policy into the markets of other countries to establish its market share. The adviser said that he is persuading Pakistan's manufactures to similarly send their products outside the country at maximum quantity to attain the market share.
The Pakistani government has yet been successful in this mission, but is striving to remove travel advisories imposed long ago by developed economies, including the US and Japan. Dawood added that many business people from abroad are otherwise in Pakistan looking for opportunities,in spite of the travel advisory against the country.
No progress has been made since the last visit of Prime Minister Imran Khan to the US regarding issues such as the TIFA (Trade Investment Framework Agreement) signed under the Musharraf regime, BIT (Bilateral Investment Treaty) and ROZs (Reconstruction of Opportunity Zones), but Pakistan has significantly climbed the World Bank's ease of doing business index that has given an encouraging signal to the investors from abroad. The Commerce Ministry is currently trying to persuade big brands of USA, Europe and China to open their representative offices in Pakistan as in Bangladesh, India and Vietnam. Dawood has admitted difficulty on the issue, as many business figures are unable to meet export orders from abroad on account of the liquidity crisis that has been further aggravated by a consumption-based tax system.
Meanwhile, the advisor will ask the government to constitute the committee to deal with business cases instead of the National Accountability Bureau (NAB) and said that major business groups will be availed by the State Bank of Pakistan under a long-term financing scheme.
Despite fears that Small/Medium Enterprises (SMEs) may not be able to use this facility, the government is in the process of structuring a mechanism to provide maximum ease to SMEs – in the next three months, several actions will be taken to increase the exports of SMEs and to alter the DTRE rate for them; SMEDA (Small Medium Enterprises Development Authority) is also being reworked to be made into a commercially viable entity.
On the operationalisation of the second phase of China-Pakistan Free Trade Agreement (CPFTA-II), trade agreements with China would proceed from December 1, 2019, with exports amounting to some US$500 million on a short-term basis. Pakistan's exports has so far gone up by 3.58% while imports shrank by 20% in early financial year 2019-20, compared to the corresponding period last year – trade balance shrank by US$3.99 billion and remittances tumbled to US$7.4 billion in first four months of current fiscal from US$7.6 billion last year.
However, the adviser remains optimistic that the outlook will change positively from October onwards.