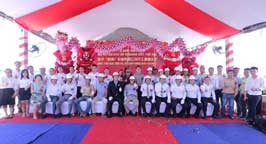 China-based tyre manufacturer Jinyu Tire Co., Ltd. (Jinyu Tire) recently held the groundbreaking ceremony for its Vietnamese factory in Phuoc Dong Industrial Park, Tay Ninh Province, Vietnam.There are high expectations for Jinyu Tire's project investment in Tay Ninh – Chen Yuren, Senior Consultant of Vietnam SVI Company pointed out the positive impact the development will bring to the local economy, technical progress and employment opportunities once completed. He is certain that the Jinyu Vietnam Project strength and the new cooperation between China and Vietnam will "instill new vitality into the social and economic development of Tay Ninh."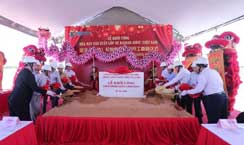 According to Li Hongyun, Representative of Jinyu Vietnam Project,the annual production capacity will be 2 million TBR tyres after the completion of the first phase of the project. The factory will be built based on the most advanced design concepts in the tyre industry and make the most out of digitalisation, intelligence and lean manufacturing. It will incorporate unmanned automation and intelligence in warehouse management, logistics and other processes with application of advanced technology including the internet of things (IoT), big data, fully-automatic robots, and a fully-automatic elevated stereoscopic warehouse. Some of the typical manual work by employees will also be managed online to reduce labour costs, improve work efficiency, factory operations and decision-making.
In addition to the advanced tyre manufacturing equipment and technology, the factory will also cooperate with highly-skilled global technical teams and prestigious universities to ensure the development of high-performance tyre products to meet the diverse needs of global markets.
By that time, Jinyu Tire Group will take further steps to expand its global production capacity, promote overseas market development, and strengthen its international competitiveness, which will lead to appropriately meeting the needs of global customers. The Jinyu Tire Group adheres to the core value of "common interests above all else." As such, it focuses on the timely development and application of rubber tyre technology and services, and is committed to providing customers with the best value and experience.