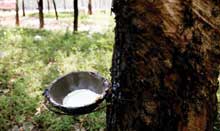 To better understand rubber farmers' challenges and how they have responded to the rubber price slump in the past decade, the General Directorate of Rubber (GDR) has initiated a joint study with Belgium's University of Liege agro researchers; the two parties are to focus on family-owned rubber plantations in three dominant rubber-producing regions in Cambodia – Kampong Cham's Stung Trang district, Kratie's Snuol district and Ratanakkiri's Bakeo district. GDR's Director-general Pol Sopha said the study would begin in mid-January 2020.
The findings will be incorporated into a government policy for the rubber sector after the study concludes by June this year, according to Rubber Development Department Deputy-director Kou Phally.
There are currently 30,000 families growing rubber on some 170,000ha of land, Phally said, noting that farmers who grow on less than 45ha are considered to be family operations and are not related to land concessions. While the global output of rubber was recorded at 14 million tonnes per annum but demand was only around 13.8 million tonnes, Phally thinks a main cause of the drop in global rubber prices is oversupply of the commodity.
Last year, the Kingdom exported about 233,677 tonnes of rubber amounting to US$311 million, at a 24% increase over the same period in 2018. However, GDR reported that the average cost of rubber has fallen from around US$ 4,600 per tonne in 2011 to about US$ 1,350 per tonne in early 2020.