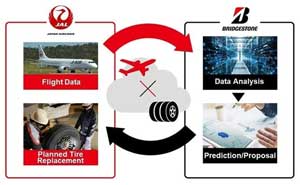 World-renowned tyre maker Bridgestone Corp. (Bridgestone) and Japan Airlines (JAL) have begun a data-based partnership to accurately assess the rate of tyre wear in aircraft and improve their management and maintenance. The project – launched in May – will use tyre insights and digital tyre wear prediction technologies from Bridgestone as well as aircraft and flight data from JAL and J-AIR, a fellow Japanese flight operator, to determine the optimal time to replace aircraft tyres.
Bridgestone said the new partnership will help assess tyre wear more accurately which will in turn reduce wheel and tyre inventories, improve the efficiency of aircraft maintenance programmes and cut carbon dioxide emissions from aircraft manufacturing and in-use stages.
Bridgestone explained that the rate of wear of aircraft tyres depended on various conditions including temperature, runway surface and weight of the aircraft. Aircraft tyres typically need to be replaced after a certain number of takeoffs/landings – the use of Bridgestone's tyre wear prediction technologies is hoped to significantly improve aircraft tyre maintenance.