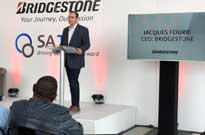 Tyre and rubber company Bridgestone Corp. (Bridgestone) plans to close its bias tyre manufacturing plant in Port Elizabeth (PE), South Africa, to focus more on premium, profitable growth segments. Bridgestone's PE plant is specifically geared towards the production of older bias tyres, which are globally in decline and being phased out in South Africa as it is an unprofitable market, according to Bridgestone South Africa (BSAF).
Instead of bias tyres, the agricultural industry is shifting to the more modern, longer-lasting radial tyres. To produce radial tyres an investment in a costly and completely new manufacturing plant would be needed, which is not feasible in the current economy, BSAF said.
"The bias industrial and off-the-road tyres manufactured at the PE plant which have since been trumped by a growing trend in the production of radial tyres globally, has meant a steady decline in market demand over the years, eroding profitability for BSAF.All these technical and economic factors combined have created an environment in which the PE factory is unable to continue running, despite all efforts to sustain the operation," said BSAF Chief executive, Jacques Fourie.
"To preserve the competitiveness of BSAF and a sustainable future for its employees, partners and stakeholders, the proposed closure of the PE plant is the only viable option," he concluded.
At least 252 employees – out of the over 2,000 employees at BSAF – are expected to leave the PE plant at the end of the day, even after looking into other options besides closure, including cost containment measures, the sale of the plant to a suitable buyer, export opportunities, public funding, and possibly relocating different product lines to PE.
"We realise the impact the project will have on the personal lives of PE employees and we are committed to mitigate the impact of the proposed closure. Fair severance packages will be provided and where possible, skills will be redeployed," Fourie said.