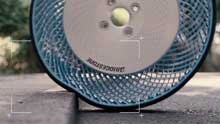 Japan's Bridgestone Corporation (Bridgestone) will soon launch its revolutionary airless tyre for semi-trucks and bicycles/electric bicycles. Still under development, Bridgestone's airless tyre technology so far features a unique spoke structure of recycled thermoplastic to support weight, instead of using pneumatic pressure – this effectively eliminates the need to refill tyres with air or worry about leaking tyres. The prototype can apparently bear upwards of 5,000 pounds each and are completely puncture-proof, both of which are a boon to truckers.
Jon Kempel, Executive Director at Bridgestone Americas, said fleet operators were looking for a solution to recurring problems in the truck market: "This technology solves a problem for them and it saves them money. Their job is to keep their trucks on the road, and you can't do that when your tyres are not properly inflated."
Kempel further explained that shipping companies face major losses when a big truck has an air-related issue, which can happen every 8,000 miles. Although airless tyres will likely cost more than traditional tyres, the new technology is expected to be well worth the extra expense from its reduced downtime and improved load-bearing capabilities and driving performance.
Bridgestone has also said the airless tyres have tested to be as efficient at rolling resistance as its current Ecopia low-rolling resistance tyres, which was primarily engineered to provide enhanced fuel efficiency. In addition, the shared mobility space, including scooters and electric bicycles, would benefit tremendously from the environmentally-friendly option of airless tyres.
While Michelin has relegated its Tweel airless tyre solution to lawn mowers and golf carts, Bridgestone has opted to skip over the passenger car tyre market altogether – however, the company still seems confident in a consumer-friendly solution for airless tyres in the auto industry.
In the meantime, you can get a glimpse of the airless tyre solution during the Tokyo Summer Olympics in just a few months; as the official tyre partner of the Games, Bridgestone will be outfitting the competition area with publicly available bicycles with its new airless tyres.