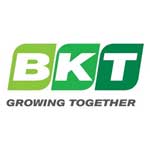 Balakrishna Industries Ltd. (BKT) is gradually resuming tyre manufacturing operations at its plants in India after gaining approval from the local government. BKT has four such plants – in Aurangabad, Bhiwadi, Chopanki and Bhuj—where it also runs a carbon black manufacturing unit; the tyre manufacturer also has a tyre mols production unit in Dombivali, near Mumbai.
In addition to tyre production, BKT said it will resume supply and delivery to the original equipment and aftermarket channels as well, made possible because its supply chain team in Mumbai and its logistics/sales support team in Seregno, Italy, remained in close contact with raw material suppliers throughout the lockdowns.
BKT had initially suspended production at its facilities on March 24 following the implementation of a nationwide lockdown to curb the spread of COVID-19. With operations soon falling back to normal, BKT said all facilities will adhere strictly to health and safety procedures, including social distancing and body temperature monitoring.