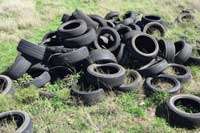 A man has been fined AU$30,000 (US$21,655) in the Ipswich Magistrates Court after pleading guilty to unlawfully transporting and dumping tyres in 2018 in at least 17 locations in southeast Queensland,including on vacant or state land in the local government areas of Toowoomba, Logan, Brisbane, Moreton Bay and Sunshine Coast.The Department of Environment and Science (DES) took charge as the environmental regulator.
The man used different names and business names to collect more than 3,500 tyres from automotive dealerships, and received at least AU$7,471.30 as a result. In early August, he pleaded guilty to 17 offences of illegally dumping waste contrary to the Waste Reduction and Recycling Act 2011, and to one offence of carrying out an environmentally-relevant activity without an environmental authority contrary to the Environmental Protection Act 1994. The man was also ordered to pay AU$2,361 in investigation costs and AU$1,500 in legal costs.
Tyre stockpiles are a serious fire hazard, and unlawful tyre stockpiles and unlawful storage of waste concern the community and DES, which investigates every report of the illegal storage of tyres. According to DES, unlawful waste activities can contaminate land and nearby waterways and damage Queensland's beautiful environment.