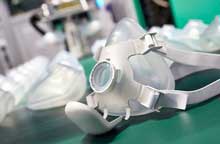 Machine manufacturing company Arburg GmbH & Co. (Arburg) has started injection moulding liquid silicone rubber (LSR) and polypropylene masks near its headquarters in Lossburg, Germany, to address the critical shortage of personal protective equipment caused by the COVID-19 pandemic. Arburg said it currently has the capacity to produce 3,500 multifunctional high-tech masks daily and intends to ramp up production to 15,000 masks a week.
The mask itself is made of a soft LSR material that is put over the nose and mouth and a firm PP shield with eyelets for attaching elastic bands. In the middle, there is a standardised connection with a hole; the opening is sealed with a flow gate and will be fitted with a filter housing. According to Arburg, by using certain filters (FFP2 or FFP3), the face masks will protect against COVID-19 and be suitable for use by nurses and doctors.
Gerhard Böhm, Arburg Managing sales director, said the company has received numerous requests from hospitals and nursing homes from all over the region, "The demand is enormous […] we are involved in various aid initiatives and also [pushing] internal company projects, such as this face mask."
The face mask project comes on the heels of another effort to mould PPE – in April this year Arburg used another of its specialty injection moulding machines to make safety glasses.